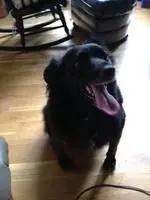 My dog Bijou: RIP
Educational Background: I completed my MSSW in 1980 at University of Tennessee Memphis campus. My first year clinical internship was at Methodist Hospital while my second year was with University of Tennessee Mental Health Center. Both internships were clinically focused and laid the foundation for my career working with children, teenagers, and their families.
Prior to this I completed my Masters of Religious Education degree from Golden Gate Seminary. Although I completed the degree there, the primary education was not in the classroom but rather in my clinical internship at Telegraph Community Center in Oakland. Experiencing the multicultural community in inner city Oakland exposed me a life that was very foreign to me at that time. This experience was vital to help me recognize that my career was not within the church and motivated me to complete my MSSW. The four years I worked and studied in California had a great impact on my life and during this time I began my meditation practice.

Clinical Experience: My first job out of graduate school was working with children (ages 4-12) on an inpatient psychiatric unit in Memphis. My task was to assess and treat the families who had children with serious behavioral health issues. I was very fortunate to work on a unit that trained child and adolescent psychiatrists through the University of Tennessee. This opportunity allowed me not only to work with numerous child fellows (psychiatrist) in training but to have access to many training opportunities over a four-year period. The value of that experience is something I continue to look back on with great appreciation for the learning I received. What I learned in the early 80's is no longer being taught because of the constraints of managed care.
Following this job I was director of a residential treatment program in Memphis that treated adolescents with severe psychiatric problems and were in the custody of the state. Since that time I have worked on child and adolescent units in Memphis as well as Atlanta. The last position was clinical director at SummitRidge Hospital in Lawrenceville, GA. I was part of the start-up team that opened the hospital and continued there for fifteen years working with adolescents and adults.
The past four years I have been in private practice with Metro Behavioral Care prior to openning my own office. Working with MBC has afforded me the opportunity to develop my clinical practice and focus on children, adolescents, and adults. This includes individual, family, and marital therapy. Providing outpatient services has been very rewarding. My practice involves clients from 6-75 years old. This diversity in age is refreshing and allows me to deal with clients throughout the life cycle.
I've had the opportunity to work with several very talented psychiatrists and clinicians over the years. They have challenged me and broadened my clinical experience. I am grateful for their teachings and feel compelled to utilize the skills that I have learned in order to benefit the clients I work with.
Clinical Approach : One of the benefits of thirty-plus years of practice is integrating a variety of approaches in order to speak a common language with my clients. In truth, some of what I utilize in therapy was not learned in the classroom. The values of growing up in a small town in the Midwest, the lessons learned from my grandfather, as well as working with people in inner city Oakland have taught me important lessons. One of my mentors had a saying on his wall that made an impression on me: "The most important thing is to not be afraid to be human."
The four years I spent in California were very rich and during this time I began to learn meditation, a practice that continues to this day. Meditation has helped me to focus, be in the present moment, be more disciplined, and learn about myself. I worked with a man recently that was in the middle of a psychological crisis and provided direction and support. At the end of the session he asked, "How do you understand me so well?" And my response was, "because I understand myself." This has been a direct benefit of my practice and has become an effective tool in my practice. Meditation is very effective in treating anxiety, depression and PTSD.
My initial clinical training was in Family Systems Therapy. This approach looks at then family as a role and how each member plays a given role. This approach emphasizes family relationships as an important factor in mental health. In order for the family and its members to be healthy, there must be a balance within the family. When the family system becomes unbalanced one member of the family or the entire family can be impacted. An example of this would be one family member that has an issue with anger could cause the relationships within the family to be strained and the family out of balance. Interventions seek to bring the family into balance in order to improve relationships.
Erik Erickson and his Eight Stages of Human Development have played a significant role in my approach. As I have worked with children, teens, and adults I have seen how traumatic experiences impact development at a given stage. His eight stages provide a framework to educate clients to help them make sense of their lives. By understanding the traumatic event(s) in their lives and when it happened it provides direction about what issues need to be addressed. His work is a valuable tool not only to help clients
Over the years Joseph Campbell has also been an influence on my practice. His famous quote "Follow your bliss" hangs on my office wall.
The mind is a wonderful servant, but a terrible master!